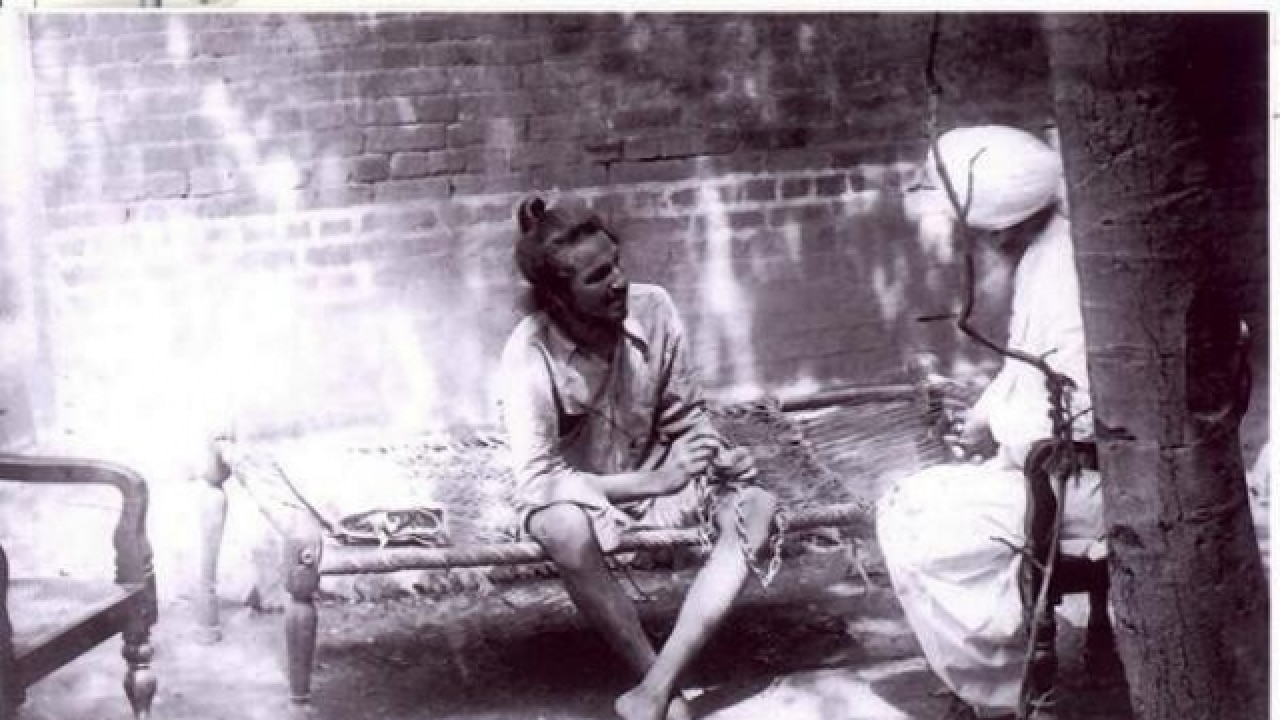 The picture above was taken by the police during Bhagat Singh's first stint in jail in 1927. At the time of the picture he was only 19. His hands were bound in chains and he was in conversation with Gopal Singh Pannu, DSP, CID who was interrogating him on his role in the Lahore Dasehra Bombing Case. One year later, Rajguru and Bhagat Singh would kill Saunders, an Assistant Police Commissioner in Lahore. They had meant to kill Scott, the policeman who had beaten Lala Lajpat Rai brutally and that led to the legendary leader's death. But when this picture was taken, Bhagat Singh had no idea that he was going to commit a political assassination. He did not know that two years later he would lob bombs into the Central Legislative Assembly Chamber and then wait patiently for the police to arrest him. Nor did he know that he and his comrades, Sukhdev and Rajguru, would be remembered in Indian history as martyrs and heroes.
My own introduction to Bhagat Singh had been through a paragraph, like the one below, in my history textbook. As a student, I could not understand Bhagat Singh's place in the story of Indian Independence. In a struggle made famous for its non-violent approach, here was a man who seemed unafraid of violence. He killed a man, bombed the Legislative Assembly when it was in session, and was executed for his actions. How were his actions any different from that of a modern terrorist? Why do we include him in a textbook? Why do we still remember him?
My husband did not like that I compared Bhagat Singh to a common terrorist. "Absolutely not," he had said fiercely. "Bhagat Singh was an intellectual, not just a revolutionary." His defense of Bhagat Singh spurred me to do my own reading on the subject. I started with Kuldip Nayar's book Without Fear: The Life and Trial of Bhagat Singh, followed by Bhagat Singh's own writings. In the process my own attitude towards Bhagat Singh changed. While I agree with my husband that Bhagat Singh was absolutely not a terrorist, I think what makes Bhagat Singh extraordinary is that his life was his message or, as Sukhdev called it, 'propoganda by action'.
In the following blog posts, I will focus on two events that made me change my mind about Bhagat Singh. The first (and the focus of this blog) was his role in the Central Legislative Assembly Bombing. The second was his protest against the treatment of Indian political prisoners compared to Europeans (which I will cover in the next blog). I wish I had heard these stories when I was in school because it would have highlighted the various paths Indians took to achieve the same desired outcome of Independence and might have allowed us to reflect on how grey a lot of these approaches really were.
Bhagat Singh's Role in the Central Legislative Assembly Bombing
Bhagat Singh belonged to a communist group called the Hindustan Socialist Republican Association (HSRA). Although Bhagat Singh was not a founding member, he joined the party when he was still in his teens and became an active member. After Saunder's assassination, the HSRA had been disappointed with the response. The mainstream leaders of the freedom struggle had clearly disavowed the actions of the young revolutionaries and the British seemed unfazed. The public had also seemed unimpressed. If they wanted to make any serious impact on the British and the public, this clearly had not been the way. HSRA also realised that "mobilising public opinion and making people believe in their ideology was the real necessity, not random bombs and killings." (Nayar, Without Fear).
So, how do you create a splash? The HSRA decided to toss a few low intensity bombs into a crowded Legislative Assembly Chamber when it had assembled to discuss two bills that they were against – the Public Safety Bill and the Trade Disputes Bill. After throwing the bombs and propaganda fliers in an emptier part of the hall, to avoid killing anyone, the two chosen HSRA members were supposed to wait for the police to come and find them. The idea was to use their time in court to explain their philosophy, bring attention to the faults of the British and to inspire the Indian youth to join the freedom movement.
There had been some debate over who the two sacrificial lambs should be. Bhagat Singh desperately wanted to be one of them. He would have been a good option because they needed someone articulate and confident to highlight the problems with the British, defend the revolutionaries' ideals and inspire the public. But, they did not originally select him because they all knew that if the British had Bhagat Singh they would not let him go alive. They would have to hang him for the killing of Saunders. He would have to be made an example of.
Yet, even with full knowledge of this inevitable end, Bhagat Singh pushed for his inclusion in the plan and finally won out. On the day of the bombing, as the smoke cleared, the police finally mustered up enough courage to confront the two men in the balcony above the Assembly who were shouting Inquilab Zindabad. Bhagat Singh and Batukeshwar Dutt stood there waiting. Bhagat Singh handed the policeman the gun he had used to kill Saunders. And later, as the two had hoped, they used the court as a platform to get the common man in India to pay attention to the revolutionary agenda.
In court, their lawyer Asaf Ali read out a statement that Bhagat Singh and BK Dutt wrote together. They explained the intention behind their most recent act as follows:
It was necessary to awaken England from her dreams… We dropped the bomb on the floor of the Assembly Chamber to register our protests on behalf of those who had no other means left to give expression to their heartrending agony. Our sole purpose was to make the deaf hear and give the headless a timely warning.

"We are neither perpetrators nor lunatics: Full text of Bhagat Singh and BK Dutta's argument in 1929 Assembly Bomb case", DNA India
They also addressed their disagreement with the nonviolent approach to freedom head on. They said:
The elimination of force at all costs is Utopian, and the new movement which has arisen in the country, and of that dawn we have given a warning, is inspired by the ideals which guided Guru Govind Singh, Shivaji, Kamal Pasha, Riza Khan, Washington, Garibaldi, Lafayette and Lenin.

"We are neither perpetrators nor lunatics: Full text of Bhagat Singh and BK Dutta's argument in 1929 Assembly Bomb case", DNA India
By tracing their movement's lineage to such famous predecessors as Guru Govind Singh, Shivaji, etc, the revolutionaries were trying to point out that their ideas were neither new nor too radical since great heroes in history also resorted to the same methods. If you have a chance and sufficient interest, it is worth reading in its entirety. As I read it after having read Bhagat Singh's other writing, I could see his hand in this as well. He is an emotive writer; it is hard to walk away from his work without some response. I did not always agree with him, and yet I did not walk away feeling that this was a rash and unthinking trigger-happy young man. He was, in fact, a person who was thinking and feeling deeply for his country and doing what he felt was right for her. He and his comrades felt so strongly about it that they were willing to suffer the torments of imprisonment (it was certainly torturous because they were frequently beaten brutally and suffered several humiliations and discomforts) and death for their ideals. Every time I read his words, I think back to the picture at the top of this article.
We are lucky that the photo of Bhagat Singh sitting on the charpoy in conversation with an investigator (that you can see at the top of this article) exists because that picture highlights two things – one is just how young Bhagat Singh was. At the time of his death he was only 23. The other is how confident Bhagat Singh appears. He looks comfortable in his shackles and relaxed in his conversation with the policeman. I could not find any sign of fear or apprehension in the collection of his personal correspondence and articles that I could find online. He seemed to overflow with conviction and dedication to his cause. Before, he died, he was visited by his grieving family. He was particularly affected by his younger brother who could not stop crying. He wrote him a particularly tender letter and included some couplets to console him. It ended as follows:
Meri hawa mein rahegi khayal ki khushboo,
Yeh musht-e-khak hai, fani rahe rahe na rahe.

(Our faith and ideas will fill the air.
What harm if this handful of dust is destroyed?)

Without Fear, Kuldip Nayar
Those who are willing to sacrifice themselves for a cause must have to view themselves with tremendous humility in the face of their faith and ideals. Through many of Bhagat Singh's letters to his friends and family, Bhagat Singh seems to repeatedly come back to this point of how he as an individual does not matter as much as the cause.
Bhagat Singh expresses this sentiment through word and action over and over again in his short life. This is why we remember him. Not for having killed Saunders or for having bombed the Legislative Assembly as the textbooks imply. We remember him as being one of many men and women who viewed themselves as a handful of dust in the wind. They dedicated themselves to their principles and ideals regardless of the cost. Whether they chose revolution or non-violence, the love, dedication and sacrifice for their nation was the same.