In December 1947, Independent India's Postal Service issued three stamps. One was the flag, another was an aircraft, and the third was India's National Emblem – the Ashoka Lion Capital of Sarnath. This is the story of the Lion Capital and how it found its way onto a stamp.
Rediscovering the Lion Capital
Sarnath, if you don't already know, is a short drive outside Varanasi (Uttar Pradesh). It gets cold in the winter but it's blazing hot in the summer. If you were an archaeologist planning a dig in this famed Buddhist holy site, you are going to prefer working in the relatively dry winter and spring, instead of the hot summer and wet monsoon. Accordingly, Friedrich Oscar Oertel, a civil engineer from the Public Works Department, arrived in Sarnath in December 1904. He was an amateur archaeologist and had been looking forward to the dig that he had planned with the Archaeology Survey of India. He had four months before the summer heat made it impossible to work and there was no way he could know what was waiting for him under the mud.
Archaeology had become a trending subject since the end of the 19th century all across the British empire – from Egypt to India. In Egypt, his colonial counterparts were discovering Mummies and temples in the sands, while in India, the British were unearthing Buddhist stupas across Bihar, UP, Haryana, ancient temples, caves and other unimaginable treasures. And Oertel wanted in on the action.
Oertel was in Sarnath for just one season, from December 1904 to April 1905, but it was a magical dig. Here is a picture of the dig during that time.
Oertel had reason to believe that there were things to find at Sarnath. His predecessors had been finding several relics and fragments of life from ancient India. But what he stumbled upon was beyond his imagining. During the dig he came upon broken bits of what was recognisably one of Ashoka's pillars. The great king Ashoka was known by this point because many of his other pillars had been rediscovered by various British archaeologists across Bihar, UP and Haryana. James Prinsep, the famed British scholar and orientalist, had already managed to translate the inscriptions on these pillars that told us the story of the legendary peace loving king.
Over the course of his dig, Oertel came across one of the best preserved Ashoka capital. It was nearly 7 feet tall with four lions sitting with their backs to each other and their mouths open. They sat on a base that had a frieze of sculptures of a lion, elephant, bull and horse, each separated by wheels or chakras. This abacus, in turn, was atop an inverted lotus. It was all made of polished sandstone. The discovery sent waves through the small but passionate little community of archaeologists around the world.
A year later, Oertel applied to return to Sarnath, but the United Provinces (UP region) was in the throes of an awful famine and his request was denied. He continued his expeditions elsewhere, finding other things that he often shipped back to England to add to the growing collections of art from the colonies in British museums. The Lion Capital of Sarnath, however, remained in Sarnath.
From a Museum in Sarnath to India's State Emblem
A little over four decades later, India was getting ready for her independence. Among the weighty responsibility of putting together a Constitution, the Constituent Assembly also decided that India's State Emblem should be the Ashoka's Lion Capital. All countries need emblems. Emblems or symbols are visual representations of a nation's values, history and goals. Ashoka's Lion Capital was meant to remind the Indian citizen of our ancient and illustrious history. We are the descendants of the great Ashoka, who after his bloody war with Kalinga, reflected on his actions and gave up violence and territorial ambition for peace and leading his people righteously. During Ashoka's time, the four lions with their open mouths were spreading Buddha's message in the four cardinal directions, but a secular India detached the Lion Capital from its religious symbolism. Instead, the four lions came to mean a young nation's pride, courage, power and confidence.
But, the image you see in the stamp is not a photograph of the Lion Capital. The Constituent Assembly needed an illustration that captured the essence of the capital but that could be easily reproduced as rubber stamps and be printed as stamps and letter heads. Enter Dinanath Bhargava.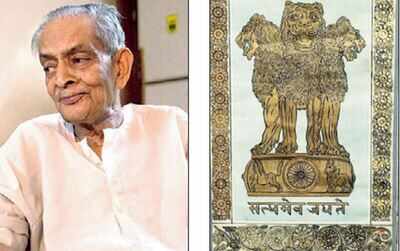 Dinanath Bhargava was a 21 year old art student in Shantiniketan. His teacher, Nandalal Bose, had been asked to design and illustrate the official Constitution, and Dinanath had been selected to work on a particularly important project. He was to design the National Emblem. So, the 21 year old would wake up early, get on a bus and head to the Kolkata zoo to look at the lions. He practiced drawing lions for a month before he got down to designing the emblem. His design made it to the cover of the original illuminated Constitution of India. That's quite an achievement for a man in his early twenties. Bhargava grew into a well known artist. He revived folk art by bringing Madhubani paintings to cloth, brought and supported the carpet making industry in Gwalior, introduced double-decker looms in textile manufacturing and designed Chanderi sarees. He was the director of All India Handloom Board when he retired in 1986.
When I was reading about Dinanath Bhargava, I wondered if his parents were worried when he said he wanted to be an artist. Probably.
Indian history is littered with anonymous artists who have had enormous impacts on our culture. But I am glad we know of Dinanath Bhargava and others like Nandalal Bose, his teacher, so that we know whom to be grateful to.
Resources: