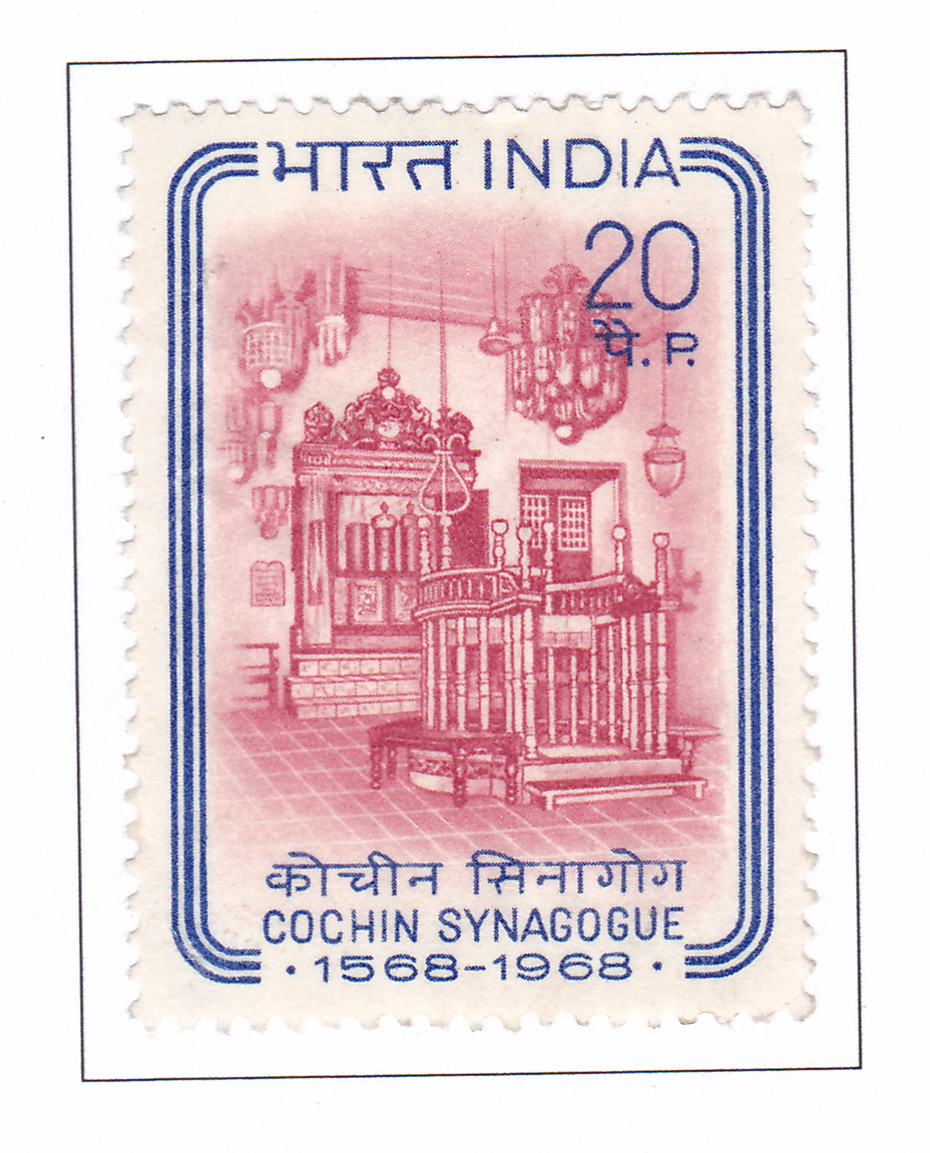 Kochi is one of my favourite cities in India. It is just all kinds of beautiful. My son had wanted a city holiday after several holidays in national forests. He wanted people and traffic and shopping. We wanted greenery and water, history and culture. Kochi delivers on all those.
I was particularly interested in Kochi, because in my classes we had been talking about secularism and as I was reading about the subject for class, I learnt about the diverse religious and ethnic communities that formed along the Konkan and Kerala coastline thanks to trade from ancient times.
When I was in school, I always thought of the Muslims arriving in India on horseback, from Central Asia – raiders who became conquerors and eventually settlers. Similarly, I associated Christianity in India with the missionary zeal of 18th-century colonists. But Muslims, Christians and Jews were in India much before that. They had come on ships from the Middle East as merchants and traders interested in spices like pepper and cardamom and luxury goods like ivory, peacocks and teak. Then they stayed on, retaining their individual religious identities for centuries before the invading Central Asians and Europeans. While they were here, they adopted the local language, adopted elements of local cuisine and clothing and surprisingly, elements of social customs like casteism. But more on that later.
On this visit to Kochi, I was keen on visiting at least one of the several synagogues in the area. The Paradesi/Cochin Synagogue was closest to us and so that is where we went.
At the entrance of the synagogue was a little room with paintings that showed the history of the Cochin Jews. I thought the Jews arrived in India with the Europeans but I did a double take on the very first painting. According to the caption, the Jews first arrived in Kochi in 72 AD. 72 AD! (You can see the paintings here). That's just 72 years after Christ! That is over 100 years before the great Guptas in Pataliputra! The Jews had arrived on trading ships after the Romans destroyed the Second Temple in Palestine. When they left India in the 1950s and 60s, they would have left this sanctuary of nearly 2000 years.
The 1968 stamp of Cochin Synagogue was issued to commemorate the 400th anniversary of the Jewish temple. It had been built by the Jews who had sought a safe haven after escaping persecution during the Spanish Inquisition in Europe. They had come on Portuguese ships who followed Vasco Da Gama's route to trade with India. The compound of the synagogue shares a wall with the Kochi royal family's palace temple and a painting in the museum showed the Hindu Cochin king gifting a crown to the elders of the synagogue, indicating a friendly relationship between ruler and the Paradesi Jewish community. Unlike the Western world, in India, Jews – both Malabari and Paradesi Jews – did not suffer any sort of persecution from other religious groups. Yet, with the arrival of the Paradesi Jews came the pernicious practice of caste and the Paradesi synagogue became the centre stage of a struggle for equality within this tiny community.
I have always associated caste with religion – I thought caste was part of Hinduism, and so the resulting caste-ism was a Hindu problem. Perhaps it is. Perhaps Hinduism institutionalised it and the other religious communities in South Asia found it convenient to adopt it into their own cultures. Over time all religions in the subcontinent practiced a form of casteism within their own communities.
Lower caste converts to Islam, Sikhism and Christianity faced discrimination for centuries even though all three religions preach equality, and even though often people converted to these religions to escape caste discrimination in their Hindu society. The Jews have a long history of trying to escape discrimination. In fact that is why they first arrived in India – seeking refuge from discrimination overseas. But, no community seemed safe from caste and the Jews needed their own Jewish Gandhi to fix endemic discrimination in their community.
Abraham Barak Salem was actually known as the Jewish Gandhi – that isn't a name I made up for him. Born in 1882 in Kochi, Salem was the first Jew to be trained as a lawyer. Inspired by Gandhi's non-violent methods, Salem joined the Indian nationalist movement. But today Salem is most remembered for his non violent efforts to reform the division within the Jewish community.
For centuries the Cochin Jewish community were split into three groups. The brown skinned Malabari Jews (called the Black Jews) who had come in 72 AD and who were no virtually indistinguishable from the local, the Paradesi Jews (White Jews) who were of European descent and who had come in the mid-15th century, and finally the freed slaves of the Paradesi Jews called the meshuchrarim. Meshuchrarim were slaves of mixed racial descent who had supposedly adopted the religion of their masters. While the Malabari and Paradesi Jews each claimed to be more Jewish than the other, both agreed that the meshuchrarim were not Jewish enough.
Each group was endogamous – which means they only married within their own communities. A Malabari Jew could not marry a Paradesi Jew. Worse, a Paradesi Jew could never marry a meshuchrarim Jew. That would be unthinkable.
It was a strict unbending social hierarchy. The Paradesi/Cochin Synagogue was for the White Jews. The Malabari Jews had built other synagogues in other parts around Kochi . At the Paradesi Synagogue, the White Jews had rules that enforced the social hierarchy. Meshuchrarim were not allowed to sit on the chairs. They had to sit on the floor at the back, during prayer, and were not to interact with the White Jews. When they died, at first they were not allowed to be buried in the White Jewish Cemetery, but later they made concessions to allow meshuchrarim to be buried against the walls of the cemetery. Caste is simply a hereditary based social hierarchy. Although they arrived with the Paradesi Jews in the 16th century, the meshuchrarim were forever at the bottom of the social hierarchy because they were descendants of slaves. It was a fate they could not escape no matter how hard they tried.
Abraham Barak Salem objected to the discrimination he and his fellow meshuchrarim faced by protesting non-violently outside the temple much like lower caste Indians were doing all over India during the same time. Eventually, the elders in the Paradesi synagogue agreed to make concessions. Meshuchrarim were allowed into the synagogue and could sit on the chairs. Although they received these privileges, it turned out that they did not have very much time to enjoy it.
In 1933, Salem made a trip to Jerusalem. Here he was impressed with the idea of creating a nation state for the Jews. When Israel was created, they opened their doors to Jews from all parts of the world. Aliyah means immigration to Israel and it was the dream of most displaced Jewish communities. When he came back, Salem actively encouraged the local Jewish community to think of moving to Israel.
After Independence, during Partition driven mass migration of Hindus and Muslims, the Jews from across India were also getting ready to leave India. Salem played a key role in Jewish migration. During this time, the divisions between the Jews of Cochin blurred further because, once outside India, the Jews of Indian origin came together in Israel and live in the same neighbourhoods. Differences that seemed so important in Cochin, dissolved when it came to adapting to a new life. In India however, it seems those who stayed back held onto their age-old prejudices.
The Jewish migration from India was not fraught with violence and tragedy. Jewish communities from the Konkan coast, Kerala, and Bengal were excited to return to the homeland, Israel. But upon arrival, many were faced with racial discrimination. Darker-skinned and so long isolated from other Jewish communities in Europe and the Middle East, they often had to prove their Jewishness. Some communities like the Bene Israelis were even sent back to India because Israel didn't recognise them as being actual Jews. They were only allowed to stay if they re-converted to Judaism – an offensive suggestion to many who strongly identified as originally Jewish.
Whenever I dig deep into history I am always confronted by examples of one group of humans tries to clamber to the top at the expense of another group. The winning group tries to secure their position by making up reasons to justify their position and it is almost always linked to birth. "I was born better than you". The observation depresses me.
Recently, in my classroom discussions on the Preamble and equality, we looked at caste and religious discrimination. We looked at news stories of sectarian violence or legal cases where the fundamental right to practice religion freely was challenged. Several 11-year-olds asked questions to understand both sides of the argument and then seemed confused about why this was even an issue. Children are a constant reminder to me that prejudice is learnt and not natural. Their constant bemusement when they hear stories of violence, prejudice, war and loss always fills me with happiness because their confusion tells me that we are fundamentally compassionate beings.
Some people grew up holding tightly onto childlike compassion. People like Salem are not in our textbook but they found other like-minded people to stand with and challenge the status quo. And while the intensity of activism always intimidates me, what would we do without the activist who points at something that is off and makes a big racket about it?
It is impossible to expect a textbook to be filled with stories of men and women like Abraham Barak Salem but it should pay some attention to the story of the Jews in India. It is a story instructive of how Indian society's diversity was not just a result of invasion, violence and exploitation. People came to India for safety and found it here. They came to make money, not by looting, but by doing business. They have contributed to our culture, architecture, food and music in ways that we cannot keep track of.
Resources:
(I have hyperlinked most of my sources in the blog above. However, below are some links to videos and websites that I didn't really use in the blog but I found gave me a rounder picture of the community and culture)