Driving through Orchha is like driving through the set of an Indiana Jones movie. Overgrown forests, ancient buildings, and then suddenly you are in a typical Indian small town, where a man on a motorcycle and a comically large bundle of mats behind him tries to squeeze past you at top speed while also confidently driving head-on into a large delivery van. The van and our SUV both came to a respectful halt, to let this brave Orchha warrior through.
We had not heard of Orchha till a few hours before we actually got there. It had come on our way from Nagpur to Jhansi and we stopped after quickly googling for places worth seeing en route. While overlooked now, Orchha used to be an important Bundela kingdom. While Orchha itself had been established in the mid 16th century by Raja Rudra Pratap, the most famous Orchha king was Raja Bir Singh Deo.
Since we hadn't really planned the visit, we didn't have the time the town truly deserves. In the hour or two that we spent there, we took a guided tour around Jahangir Mahal and the Raja Mahal, within the fort. Jahangir Mahal is a beautiful haveli style palace; a fusion of Rajput and Islamic architecture. The guide told us that Bir Singh Deo had built it as a gesture of friendship and loyalty towards the emperor. When it was complete, he invited him for a sleepover. Jahangir spent one night and never returned. And since then, the palace had remained vacant in honor of Jahangir (and perhaps subsequent Mughal rulers).
Lest you think that Raja Bir Singh was simply a vacant sycophant trying to curry favour with his Mughal overlord, our guide pointed out the subtle symbols of Rajput pride and resistance that lay hidden in the design of the palace. "Look", he said, as we entered the palace through a narrow door. "Our backs are to the West. Jahangir and his men had to turn their backs on Mecca in order to come in. That was a great insult" At another point, he showed us a Ganesha carved into the tall doorway. "Jahangir and his men had to walk under Ganeshji to come into the palace." According to the guide, Jahangir noted these insults and refused to stay more than a night. "This was the most expensive and elaborately planned insult in the world," my son said wryly on our way out. According to the guide, the whole palace with its lapiz lazuli stone work, beautiful murals, trellises, hanging balconies and fountains cost a whopping 700 crore rupees in those days.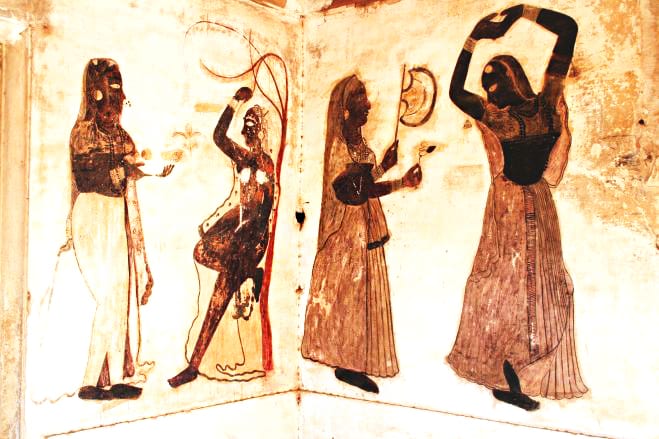 Outside Jahangir palace, our guide pointed out a large mahal in the valley below. It was the home of the famous courtesan Praveen Rai. She lived during Akbar's time and was famous for her beauty and wit. When Akbar heard about her, he ordered the then chief of Orchha Raja Indrajit Singh to send his favourite courtesan over to him. Our guide said that Indrajit loved Praveen Rai and did not intend to obey the order, but Praveen insisted on going. When Akbar asked her to perform, Praveen Rai said very prettily, "Vinit Rai Praveen ki, suniye sah sujan. Juthi patar bhakat hain, bari, bayas, swan" or 'Oh you great and wise! Hear this plea of Rai Praveen. Only someone from a low caste, barber or scavengers would eat from another person's used plate.' Ouch! Poor Akbar sent her back to dear Indrajit.
While we were there, the guide and my family were the only people in Jahangir Palace, till a short while later a small group of college boys tumbled in and spent much of their time posing for selfies. The guide told me that prior to Covid, Orchha was very popular and was mostly visited by foreign tourists. Covid had changed all that. Most domestic travellers don't know very much about Orchha, which is overshadowed by her neighbours Gwalior and Jhansi.
Today, the settlements just outside of Orchha are empty and look worn out. The fields looked uncared for and the sides of the roads still seemed to be used as open toilets for young children. Time has not been kind to the region. We realised that kings and queens of little kingdoms such as this had played a major role to sustain local economies. While my son might view the extravagance of such kings as wasteful, such kings had created thousands and thousands of jobs. Orchha is scattered with temples, chhattris, mansions and palaces. Each had employed thousands of artisans during their construction. Think of the entire supply chain involved in the building and maintenance of such places! Aristocrats and royalty must have provided business and employment to thousands of farmers, florists, weavers, tailors, blacksmiths, jewellers, cooks, maids and manservants, caretakers of horses and camels, etc. I remember reading that in yesteryears kings would start massive public works projects during famines to provide employment and serve meals to labourers who might have starved otherwise, a practice that the British did not take up and which led to disastrous famines in the 18th, 19th and 20th centuries.
This visit also helped me understand Mughal's governance system better. Akbar had centralised Mughal government and had created a coherent and solid framework for governance that allowed Mughals to stay in power for 150 years. Apart from Afghan, Persian and Indo-Islamic members of his court, Akbar had wanted to include Hindu Rajput kings into Mughal nobility. He allowed Rajput chiefs and their families to receive a high rank, pay and the promise that they could continue their customs, rituals and beliefs. They continued to have control over their ancestral lands and were rewarded with more land if they pleased the emperor with their services. In exchange, Rajput chiefs had to publicly pledge their allegiance to the emperor. They had to offer active military service when called upon and willingly give their daughters in marriage to the emperor or his princes when asked to. The Mughal emperor was paramount, and he rewarded loyalty. It completely explains Bir Singh Deo's desire to curry favour with Jahangir.
Bir Singh Deo occupied a prestigious position in Jahangir's court because of the services he had provided the emperor. Before Jahangir became emperor, he once decided to flex his muscles and got into a conflict with his father. According the Jahangir's memoirs, he hired a man to kill Abu Fazl. The man he hired was Orchha's Bir Singh Deo. Bir Singh cut off Abu Fazl's head and brought it to the young prince. When he came to the throne, Jahangir gave Bir Singh the title Maharaja and must have bestowed many other gifts of land and wealth. In the political world at that time, Bir Singh Deo and other ambitious Rajputs could only safeguard their positions by betting on the right guy in a conflict and then expressing loyalty through grand gestures like enormous palaces or gifts of women or personally chopping off someone's head for their boss. What a tough, complicated world that was!
Orchha is beautiful. The murals are fading and many bits of lapis lazuli are missing from the walls. Lovers and friends have etched their names into door frames and walls and some floors are covered with a mosaic of bat droppings, and yet it remains beautiful despite the neglect. I have not given it justice and would highly recommend checking out some of these blogs if you plan on visiting.
Resources: