With all the attention that tiger conservation has received in recent years, we tend to forget her shaggier and more sociable cousin, the lion. When I told my class about India's Asiatic lions, a few younger children were surprised. "Aunty, we have lions?" one asked. We certainly do. India is the only country in the world that is home to both lions and tigers.
Once I started thinking about lions, I started seeing them everywhere. They were on currency, on Indian government seals on official documents, on ancient temple walls and pillars, on murals in urban centres and historical monuments, at the family altar (where Durga rides on a lion) and even as people with fierce last names like Singh, Sinha, and Simhan.
Lions show up everywhere in Indian iconography and language because it looks like they actually were almost everywhere. Their range extended from Greece in Europe to the southern tip of the Indian subcontinent.
Today, the poor Asiatic lion is found in the little blue dot in Gujarat – the Gir National Park. What happened to the lion?
We did. First, we took away their homes by converting their grasslands and forests into farmland, towns and villages. Later, our upper classes decided that hunting lions would be a great sport. In the Middle East and India, hunting lions was seen as a rite of passage for young men seeking power. It was a way to show off your prowess and courage. And for good reason; from the numerous Mughal paintings, like the one below, it is clear that hunting lion was not for the faint hearted.
The ruling classes all around the world have always been obsessed with hunting. The Mughals and Rajputs were no different. But I was unprepared for the sheer volume of kill. According to one record that I read, between March and May 1610, Jehangir and his companions killed seven lions and 203 other birds and animals. By the time he was fifty, Jehangir claimed to have hunted more than 17,000 animals.
During Jehangir's time, lions were found in forests across modern day Uttar Pradesh and Madhya Pradesh and even parts of Bengal. I could not find any information on when they disappeared from the Deccan plateau, but by late 19th century, lions were hunted to extinction in most parts of India.
Enter the Nawab of Junagadh. (Well, actually three generations of Nawabs). In 1879, around the same time when the last lion near Allahabad and the last lion In Rajasthan were hunted down, Mahabat Khan, the sixth Nawab of Junagadh, banned all hunting without special permission in his territory. The Nawab was alarmed by the dwindling numbers of lions and wanted to protect those that remained in his kingdom.
His son, Nawab Rasulkhanji, ascended the throne in 1892, and immediately instituted firmer laws – protecting more animals. The Gir Forest was within Junagadh borders, but Rasulkhanji was frustrated to find that the British and neighbouring Rajas kept pestering him with requests to go hunting for lions in his territory. If he did not allow it, hunters would tie baits just outside Junagadh's borders to tempt the lions out of Junagadh where they could be hunted without consequence.
Rasulkhanji's son, Nawab Mahabatkhanji, carried his grandfather and father's legacy and fought to protect his lions until October 1947, when he acceded his kingdom to the Government of India and moved to Pakistan (with his 200 dogs but without any of his wives!). When he left, he left his lions unprotected.
After Independence, we seemed to have forgotten about the lions in Gir. We had Partition and a whole impoverished country to establish. It is somewhat understandable that we lost track of the lions for a while. In 1964, the Gir forests were home to 285 lions. Five years later, there were only 166 left.
Fortunately, the Indian Forest Service (the unsung hero that has stepped in to rescue so many animals from the brink of extinction in India) took notice. They set up a wildlife conservation programme for Asiatic Lions in 1965 and made the Nawab's beloved Gir a Wildlife Sanctuary.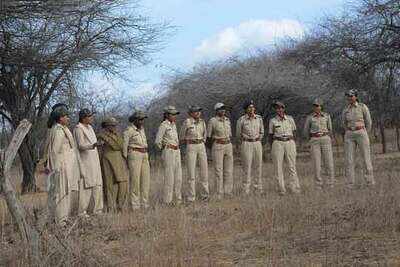 At the start of the programme, India had around 177 lions. In 2005, we had 359. In 2020, we are up to 674. We talk so much about the saving the Tiger that we often forget to acknowledge our efforts with lions. If earlier, we were worried that we had too few lions, now we worry that we have too many lions squeezed into a rather small park. The Forest Department is looking some place to relocate a part of the lion population. I do not know very much about conservation and animals, but it sounds like this is a far better problem to have than having too few lions.
There is a story buried here somewhere – the story of our Forest Department and its extraordinary efforts to protect our wildlife heritage. I didn't realise we had so many national parks dedicated to protect animals close to extinction.
At the end of the 20th century, there were around a hundred Nilgiri Tahrs in the wild. The Nilgiri Tahrs can only be found in India. They are like a cross between a goat and a sheep, and used to live in the mountains of the Western Ghats, from Maharashtra, down to Kerala. Today, there are close to 3,000 Nilgiri Tahrs in the wild. Isn't that remarkable?
On a recent Safari through B.R. Hills, the forest department official explained that the morning safari had been cancelled because their staff will be busy carrying out a census. When I told him that we saw a pack of dhol (wild dogs) on our drive to the camp, his eyes grew wide in child like excitement. "Where?" he asked. He must have seen wild dogs many, many times in his years in the forest, and yet here he was nearly as excited as we were about our sighting.
When you read the story of the lions of India, you can read it as the tragic tale of a big cat that fell prey to human greed and cruelty. But, if you read on, you can also read it as a story of hope, vision and determination. It is a reminder that while we are capable of immense cruelty and destruction, we are also capable of immense compassion and regeneration. Starting from the late 19th century, when the Nawabs identified the threat to the lion till today, when the Forest Department and local communities have united to protect the big cats, the Asiatic lion has gone from being just a symbol to an actual creature we can visit on vacation.
—-
Resources:
1. Land of the Seven Rivers: A Brief History of India's Geography by Sanjeev Sanyal
2. Mughal Emperors and The Imperial Hunt (Samyukta Ninan) https://www.livehistoryindia.com/story/history-daily/mughal-hunt/
3. The Naturalist with a Hint of Cruelty https://www.livemint.com/Leisure/VP1pnZYhc8q2s6A3U42QzI/The-naturalist-with-a-hint-of-cruelty.html
4. Untold Story of How an Erstwhile Princely State Saved Gir's Lions from Extinction
https://www.thebetterindia.com/235146/world-lion-day-gujarat-gir-national-park-nawab-junagadh-british-rule-india-nor41/